Rumors:
* Going to be a "Nobu Hotel" brand
* $200 million remodel
* Larry Ellison has a Nobu at his Four Seasons in Hawaii

---
Cal Neva bought by Larry Ellison – $36 million
A Silicon Valley billionaire has acquired the storied Cal Neva Resort & Casino in Crystal Bay for $35.8 million, an official said Friday, Jan. 12.
Lawrence Investments LLC, a venture capital investment firm headed by Oracle Corp. co-founder Larry Ellison, bought the property via bankruptcy proceedings.
The deal closed on Wednesday, Jan. 10, 2018.
The transaction comes on the heels of an agreement between major creditors in the bankruptcy case that removed a key hurdle in Lawrence Investments LLC's quest to acquire the financially troubled property.  Larry owns an island in Hawaii with a remodeled Four Seasons Resort.
A compromise and settlement agreement between Hall CA-NV LLC, The Penta Building Group, debtor New-Cal Neva Lodge LLC, and other parties was entered in U.S. Bankruptcy Court in Reno.

Under terms of the agreement, the Dallas-based Hall will receive $26,885,000 plus reimbursement of money it advanced to Capital One. The bulk of the money owed to Hall was used to fund a multimillion-dollar renovation of the resort and casino a few years ago.
The Las Vegas-based Penta, which was the general contractor for the renovation project, as well its sub-contractors and D4US LLC of Incline Village, will receive $8,025,000. The bulk of that money goes to Penta, which had filed a claim of about $7.1 million with the bankruptcy court.
The compromise and settlement agreement marked another chapter in the bankruptcy saga of Cal Neva Resort & Casino, which straddles the California and Nevada border. Debtor New Cal Neva-Lodge LLC of St. Helena, California, initially filed for bankruptcy in June 2016.
The bankruptcy filing was a byproduct of the spring 2013 purchase of Cal Neva Resort & Casino by Criswell Radovan, a Napa Valley-based real estate firm also doing business as New Cal-Neva Lodge LLC. The resort was later closed in September 2013 for a hyped, multimillion-dollar renovation.
"With the reopening, there will be a rebirth … it will be a totally different creature," said Robert Radovan, co-owner of Criswell Radovan, and controlling partner of the property at the time.
"Our goal is to be the entertainment center of the North Shore. The Cal Neva has always been an icon of the North Shore. With a new look and a return to a four- or four-and-a-half-star hotel … we plan to bring it back to what it was in its heyday."
That heyday included the memorable era in the 1960s, when the resort was owned by Frank Sinatra and frequented by the likes of the Rat Pack, Marilyn Monroe, members of the Kennedy family, and mob figures such as Sam Giancana.
However, a series of delays over the years pushed back the grand reopening of Cal Neva Resort & Casino to the point where it never happened. Then, in 2016, New Cal-Neva Lodge LLC filed for bankruptcy in the midst of the renovation.
Originally built in 1926, Cal Neva includes 219 rooms and cottages, restaurants, a spa, open space featuring panoramic views of Lake Tahoe, and a tunnel system Sinatra added so his less reputable buddies could move around unseen.
The property also features a 350-seat show room, 16,000 square feet of meeting space, and the Circle Bar.
Frank Sinatra's old casino at Lake Tahoe in bankruptcy.
Months after halting work on a $49 million overhaul, the developer of the Cal Neva Resort & Casino has placed the venerable Tahoe property in Chapter 11 bankruptcy proceedings.
The case has left the reopening in limbo, although the developer said in court papers the project can be finished in a few months. The national hotel chain that has contracted to operate the Cal Neva says on its website the property is scheduled to open next April.
"An iconic Lake Tahoe property," said spokesman Tom Lotshaw of the Tahoe Regional Planning Agency. "It would be great to see that completed. So we're hoping."
In a filing in U.S. Bankruptcy Court in Santa Rosa, the developer said the property faces about $40 million in debt and will need $23.8 million to finish the renovation.
He said construction was halted late last fall and agency officials haven't heard from the developer, Criswell Radovan LLC, since the bankruptcy filing.
The case, filed in late June in U.S. Bankruptcy Court in Santa Rosa, is the latest setback for a 90-year-old resort that was once the glamor spot on Tahoe's north shore. When Sinatra owned the Cal Neva, from 1960 to 1963, it became a summer getaway spot for his Rat Pack pals and other entertainers. He lost his license after an FBI agent spotted Sam Giancana, the Chicago mobster, on the premises.
Since then, the Cal Neva has gone through a succession of owners and has gradually slid into irrelevancy. The rise of Indian casinos in California has prompted Tahoe to slowly reinvent itself as a luxury market that depends less and less on gambling. The Cal Neva, which straddles the state line, has been unable to get back on track.
"It hasn't mattered in 40 years," said Ken Adams, a Reno casino-industry consultant.
Criswell Radovan, a developer from St. Helena, bought the Cal Neva in April 2013 and closed it five months later for a long-overdue face-lift. The company said it would rebuild the 10-story hotel tower, infuse the resort with Sinatra-era glamor and operate a 6,000-square-foot casino – tiny by modern casino standards. Criswell Radovan originally targeted a December 2014 opening, in time for what would have been Sinatra's 99th birthday, but the project got pushed to May 2016. Sinatra died in 1998.
The developer's financial problems came to a head in February, when it defaulted on a $6 million loan. The lender was prepared to initiate a foreclosure sale, "necessitating the Chapter 11 case," Criswell Radovan's lawyer David Potras wrote in court papers. The bankruptcy means the foreclosure sale couldn't go forward.
In a court filing last week, the developer said the property faces about $40 million in debt and would need $23.8 million to finish the renovation. It added that it expects to get new financing for the property in a month or two, and believes "the redevelopment will be completed within six months of the closing of the refinancing." It estimated the Cal Neva would be worth $75 million when the project is done.
Officials with Criswell Radovan couldn't be reached for comment.
Starwood Hotels & Resorts Worldwide Inc., the international hotel chain, agreed to operate the Cal Neva as part of its "luxury collection." The chain's website says the hotel will open next April. The developer owes Starwood about $30,000, according to court records.
---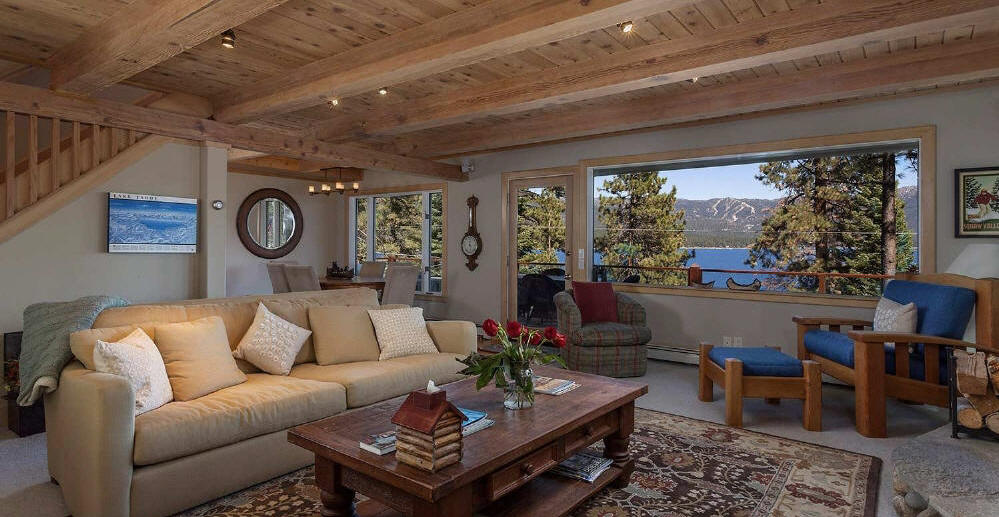 Lake Tahoe's Cal Neva reopening delayed yet again – 2016 now eyed
A look at the famed Cal Neva from Lake Tahoe. The resort's tower — the tallest structure on the North Shore — will receive upgrades and a new paint job as part of ongoing renovations in an effort to make it blend in better with the surrounding environment.
CRYSTAL BAY, Nev. Nov. 2014 – It appears the long-awaited renovation to the historic Cal Neva resort on Lake Tahoe's North Shore is being delayed yet again.
Texas-based Hall Structured Finance announced Tuesday that the company recently closed a $29 million loan in connection with the hotel/casino overhaul.
Under a planned 14-month renovation done in 2016:
1.) Complete interior renovation, including upgrading all guest rooms to a four-star level and enlarging their bathrooms.
2.) Making a bigger lobby.
3.) Repurposing first-floor spaces to serve conference, retail and fitness uses.
4.) The "Indian Room" and "Circle Bar" will be turned into a destination restaurant with views overlooking Lake Tahoe.
5.) The Cal Neva pool will be moved and turned into an infinity pool with two hot tubs and a deck overlooking the lake.
6.) A new casual restaurant will be created out of existing conference rooms next to the future pool and deck.
---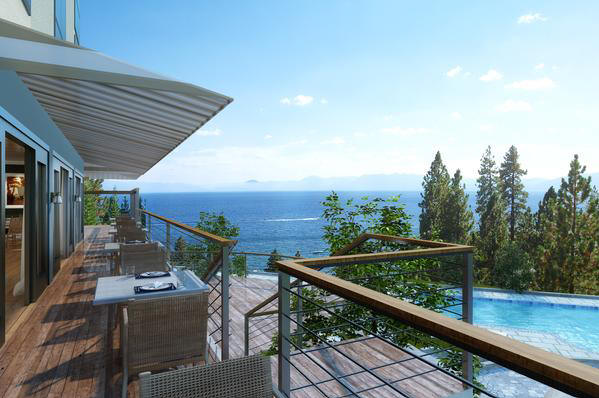 2016 Tahoe Cal Neva pool and restaurant 


This information comes a few months after Robert Radovan, co-owner of resort controlling partner Criswell-Radovan, told the North Lake Tahoe Bonanza the resort was on track for a summer opening in 2015.
"We're looking forward to opening during the third quarter of next year," Radovan said in an Aug. 13 story. "Everything is going really well."
A phone call to Radovan's cellphone Wednesday morning was not immediately returned.
Back in August, Radovan said his company had "secured all the financing" to finish the multi-million-dollar renovation, and residents could expect "a lot of activity" this fall at the property that straddles the California/Nevada state line.
Work began again at the property last week, with Las Vegas-based Penta Construction continuing to lead the project. According to a source, work is currently happening "cautiously" on the building's exterior.
"Securing loans for hotel projects in general can be a difficult area for prospective borrowers to navigate, and especially so for construction loans and loans in connection with major renovations," Hall Structured Finance President Mike Jaynes said in a statement. "With available funds and an entrepreneurial approach, our programs offer viable alternatives to qualified borrowers in this niche market area."
According to media reports, on top of the $29 million loan, Criswell-Radovan also has lined $20 million in equity, for a total financial package of $49 million.
"Mike Jaynes and the entire Hall Structured Finance team worked seamlessly with us on the project," Radovan said in a statement. "They quickly understood the unique character of the Cal Neva and the world-class destination that is Lake Tahoe. We are all excited to bring the Cal Neva Resort back to its former glory as the icon of Lake Tahoe."
Built in 1926, the famed Cal Neva Resort, Spa & Casino was once owned by Frank Sinatra and frequented by the likes of the Rat Pack, Marilyn Monroe and members of the Kennedy family.
Radovan — whose company took over the resort in spring 2013, closing it in September — previously said a December 2014 reopening was originally eyed to coincide with what would have been Sinatra's 99th birthday on Dec. 12.
However, the company decided in January to delay until at least June 2015 to play things safe, considering "gambling on the snow season next year, that could really dramatically hurt us," Radovan said in a Jan. 29 Bonanza story.
The project includes a complete overhaul of the Cal Neva's interior — from the famous Circle Bar to the casino floor to the hotel's rooms — a relocation of its outdoor pool and several exterior upgrades to comply with environmental laws.
Cal Neva – Crystal Bay reopening at Tahoe pushed to summer 2015

2-1-2014  The famed Cal Neva Lake Tahoe resort's tower — the tallest structure on the North Shore — will receive upgrades and
a new paint job as part of ongoing renovations in an effort to make it blend in better with the surrounding environment.
This season's putrid snowfall is already having impacts on plans two summers from now.
The grand reopening of the Cal Neva has been pushed back to June 2015 per Bob Radovan.
A Lake Tahoe resort once owned by Frank Sinatra and frequented by his Rat Pack buddies is about to undergo a major makeover.

The Cal Neva hotel-casino that straddles the California-Nevada line on the North Shore has closed for the multimillion-dollar project.

The 219-room, 10-story hotel and 6,000-square-foot casino will be upgraded in an effort to revive the struggling property, said Robert Radovan, co-owner of Criswell-Radovan. His Napa Valley-based development company acquired the Cal Neva in April.

"Our goal is to bring it back to its former glory and to make it what it was like in Sinatra's day," Radovan said. "It has such great soul and character, and it's needed this redo for many decades."

The property has fallen on hard times because of the double-whammy of the recession and competition from Las Vegas and Indian casinos. Its casino was forced to shut down in 2010 because of declining business.

During its heyday from 1960 to 1963, the Cal Neva was owned by Sinatra and became one of the most famous resorts in the country. It drew fellow Rat Packers Dean Martin, Sammy Davis Jr. and Peter Lawford, and stars such as Marilyn Monroe, Joe DiMaggio and Juliet Prowse.

Monroe spent her final weekend at the Cal Neva before she died of a drug overdose in Los Angeles in August 1962. Five small cabins, including the one where she stayed that year, also will be renovated, Radovan said. The other cabins were used by Sinatra and friends.

Sinatra himself renovated the Cal Neva, adding the celebrity showroom and a helicopter pad on the roof. He used tunnels to shuffle mobsters and celebrities beneath the resort so they wouldn't be seen by the general public. The tunnels were built in the late 1920s so liquor could be smuggled in during Prohibition.
The current Cal-Neva Resort and Spa sits on the border between California and Nevada on a bluff overlooking north Lake Tahoe. It has been in operation since 1926 and represents the oldest, continually-licensed casino in the United States. The Lodge, as it was formerly called, along with its renowned underground tunnels, was once owned by Frank Sinatra, yet the Sinatra years represent only a small portion of an extensive history that largely has been forgotten – that is, until now!
Some Amazing Facts About Cal-Neva Lodge:
* The founder and first owner died of depression in New Zealand after losing nearly everything he owned in the Stock Market Crash of 1929 (commonly referred to as "Black Tuesday")!
* The second owner had a father that committed suicide because of reported mental illness. The son would also commit suicide with a shotgun blast to the mouth nearly 60 years after his fathers tragic death.
* Clara Bow, a famous silent film star of the 20's and 30's, lost $13,900 gambling at the height of the Great Depression. It was a epic scandal involving Will Rogers that made national headlines in 1930.
* The Cal-Neva was the site of multiple Prohibition raids which briefly closed the "speak-easy" operating there until liquor was legalized in 1933.
* Baby Face Nelson, a psychotic and ruthless American gangster of the early 1930's, shot and killed a man who was set to testify at a Cal-Neva owners fraud trial in 1934.
* The Lodge burned to the ground on the night of May 16th, 1937 and was declared a total loss. The then current owners hired the prior owner who erected a new structure in 40 days using 100 men (not 30 days and 500 men as once thought).
* There are good reasons to suggest that the fire was deliberately set.
* The rebuilt Cal-Neva Lodge was the largest operating casino in the country when it opened in 1937!
* Judy Garland, who first performed at the Lodge in 1935 at age 13, was actually discovered there by a talent agent because she left a hatbox behind the stage and went back to retrieve it. Upon returning to Calneva, she met Al Rosen who eventually convinced Louis B. Mayer, head of M-GM, to audition her. See was immediately signed to a long-term contract without even making a screen test in October 1935.
* It is rumored that Marilyn Monroe almost over-dosed in Cabin #3 a week before she was found dead in her own apartment in Los Angeles.
* Although Sinatra had his gaming license for the Cal-Neva revoked in 1963, still owned the property until 1968!
* A terrorist extortion plot claimed that vials of the Bubonic Plague would be released in the casino if demands were not met in 1972!