221 2nd St
Sausalito, CA 94965
(415) 332-3040
Golden Gate's Hours:
Monday – Saturday 8:00am to 9:00pm
Sunday 9:00am to 7:00pm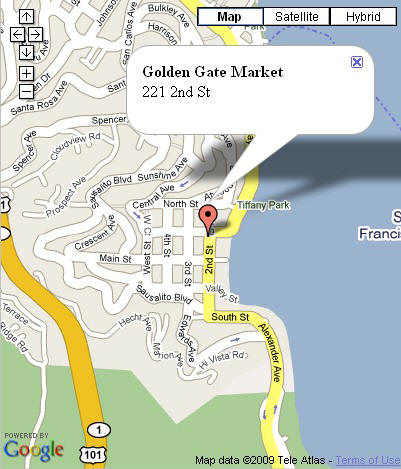 Bridgeway and Second Street
Owner: Robert Cox
Golden Gate Grocery and Market: Reviews

10/11/2011
Loveeee golden gate market! This is my absolute favorite place to get sandwiches. My family has been eating there for at least 15 years plus .. Pure love. Probably eaten about 10 thousand dollars worth of sandwiches so far lol.
Maybe it's because the weather was perfect, and we were out playing in the sun on our bicycles on a beautiful Saturday afternoon, but the sandwich i had from the deli counter (turkey club) was about as close to perfection as i imagine a deli counter sandwich can be. it was overflowing with fresh ripe tomato, cold crisp lettuce, an unreasonably generous hunk of avocado. the turkey was not dry at all and the bacon was warm and crispy. maybe i went in with low expectations– we randomly stopped here because we were hungry and the sign said "sandwiches". also sitting at the water's edge and basking in sunshine while eating the sandwich probably helped.
---
This is a fun little market, if markets can be called fun. It's quirky, has rather short hours, and has an interesting assortment of items (I can say this because they carry one of my personal favorites that I cannot seem to find anywhere else but will not name because you will come over and buy them out). It also functions as a mini liquor store, which can be VERY helpful, and is staffed by some really sweet people. Yup, I'm just kinda rambling here, in much the same way I do when I stop in this place. Very cool.
---
I stopped by here with my brother and nephew. We picked up some sandwiches, sides, and drinks for a beautiful picnic overlooking the bay. I had egg salad. It was really good, and the guy at the deli was really nice. The place is a little overpriced, but I feel like an idiot saying that because everything in San Francisco, where I actually live, is way overpriced, and I usually don't complain.
It has a nice selection; the service is good, and it's just got a really nice small-town feel to it.
Cutest little market and the deli in the back is small but more than adequate. The meat in the display looked good and if I was on my way home instead of work I'd have bought a steak to make for dinner.
However, as it was, I need to buy my lunch. I love chicken. I hate celery. This place has a chicken salad that has lots of the former and a tolerable amount of the latter. A huge chicken salad on a soft roll with cheddar was $6 and change! It was damn good, too.
A cop did walk in after me and was greeted by name. This place is adorable….too cute.
---
A typical small town grocer in that funny southern orb of Sausalito coming down from the Golden Gate Bridge on Alexander before you hit the town proper. Maybe 1/4 the size of a true supermarket, but 4X the size of a liquor store. They have it all here — cigs, lottery tickets, a meat department, a deli, wine, cold remedies, an okay veggie selection. And the place looks comfortably worn. Checkers are friendly and know many of the customers. The cops stop here to gossip. Near-death bikers and runners who won't last until Bridgeway sit on the benches out front recovering, drinking Gatorade and chewing energy bites.
---
I love this little spot! I used to live within a block radius, and when I first went there and told them I was new in the neighborhood, they asked if I wanted to open an account. (How frickin' quaint is that?) I plunked down $50 and started an account. When I unexpectedly ran into the red, they said not to worry about it & that they even had one guy who owed them $2K. Staff is friendly, and their sandwiches have been raved about by locals for years. I think it's the tasty rolls they use- yum-ee! There's not a huge selection of everything, but they have the basics covered. I find it refreshing to shop in a spot like this- it's a lot easier to grab the one brand of garlic salt they have than to take minutes contemplating the best one at a mega store.
Mitch K.
Corvallis, MT
12/28/2010
Inthe 1950s, my early years, lived in Upper Darby, PA, a bedroom suburb of Philly, full of WWII veterans who were starting new lives and growing families as well as careers.
Our "corner store" was the Morris Corner Store.l The butcher would give me a slice of salami, there were pickles in a big brine-filled barrel and shelves of just about everything. It was our neighborhood store when malls and super markets were only ideas for the future.
When I walked into Golden Gate Market I was transported back 50 years…and it felt really good.
A little bit of everything and a lot of quality in product and service with a local, neighborhood coziness.
Friendly cashier and the two guys in the deli department were just so relaxed and courteous in describing the various marinades and sandwich fixings. And you could construct sandwiches to your taste.
Locals have "accounst" whereby theyhe can pick up things and pay for them later. They know where they live and know the families. they even will deliver. How quaint and unusual in our hussle-bussle world today.
In business for well over 30 years it is a Sausalito institution that truly SERVES this now busy community. And given the high end tourists and changing complexion of the local community, one has to give credit and admire how adaptive this "corner store" has been in satisfying its continually changing clientel.
The meats are simply terriffic and the prices for much of the merchandise and deli items are on a par with the supermarkets. Yes, some items are more expensive, but not by much.
Thanks for the memories. You locals are lucky to have such a place, so please support it or it will go away.
---
San Francisco, CA
6/25/2010
Some things never change and that is reassuring. Golden Gate Market has existed in the same state of quasi decay for eons. It has that smell of olde timey convenience stores….is it rotting linoleum? And an aura of bygone era.
Their produce is pretty good for a beefed up corner market, and the meat counter has a nice selection. I'm not a big fan of their sandwiches. Don't be in a 7-11 hurry in this joint, it will get you nowhere. Still, they kinda have what you need.
---
Dusty B.
Sausalito, CA
12/15/2009
Thank God for this neighborhood market. Some items are a little pricey. But, they have super fresh fish, awesome sandwiches, local cheese and a good wine/beer selection. They also carry all of the staples one requires for making a last minute dinner when needed.
All of the employees are very friendly, helpful and polite.
---
Johnson N.
Los Angeles, CA
11/13/2009
My friend and I each ordered a chicken breast, bacon, avocado, with the works sandwich and immediately fell in love. It was DEEEEE-LISH. Definitely a nice place to have as "local."
Anyhoo… one drawback was… I noticed lots of spouse flies around the deli. Last I checked, that's not a good sign. The sandwich artist was very nice though, so that was most definitely a redeeming quality.
Not a bad overall experience… but increase the sandwich size like Little Lucca, and kill the spouse flies, and you got yourself some more stars!